The list of the services offered at Galeria Madison:

Loyalty card
Galeria Madison offers many discounts for our Loyalty Card holders. You will find a detailed list of current discounts here.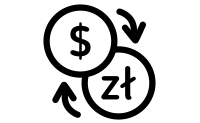 Currency exchange
Galeria Madison's currency exchange is located on Level - 1: exchange or buy foreign currency conveniently while you're shopping – and make your travel preparations easier.

100 shops
In our shopping centre you will find more than 100 shops, services, cafés and restaurants to let you enjoy convenient shopping on your way home or to work. You can also drop by to have breakfast of lunch and take advantage of the centre's many services, all under one roof.

Wifi
Galeria Madison's free-of-charge wireless Internet access ensures convenient mobile device use: you can have your coffee while surfing the Internet or checking out the attractions of the centre and its vicinity.

Restaurants and cafes
A morning cup of coffee and breakfast set the tone for the day so visit our centre's Costa Coffee open early (from 8.30 a.m.) from Monday to Friday. Are you short of ideas for a lunchtime meal? You'll find plenty of inspirations with cuisines from around the globe in one of the restaurants in the centre's Food Zone on level 2, including, Olimp, Berlin Doner Kebap, Pizza Hut Express, One Lepią and Subway. Floor. For those with a sweet tooth there is a wide selection of sweets for special occasions and everyday enjoyment at Dom Czekolady, Sowa Café and Bakery and Grycan Café and Ice Cream. Sweet bakery products and cakes are also offered by Pellowski.

Hairdresser
Do you need a new hairstyle to match a special occasion? No problem! The hairstylists from Camille Albane Hairdressers will style your hair, whether you're on your way to an important business meeting, an evening party or a family reunion. The parlour's experts will ensure you have the hairstyle you need and a trendy cut, as well as offering hair colouring services and professional hair cosmetics to keep your hair beautiful for longer. The hairdresser's is located on Level 1. A wide selection of hair care products can also be found in the FaleLokiKoki salon.

Infopoint
We care for our Customers and their needs – that is why we have opened another Information Desk in the centre. If you have any questions or queries, simply visit the information point and ask the assistant.

Laundry
Laundry doesn't have to be a chore – if someone else does it for you! Pralnia Perła, our centre's dry cleaner's, will handle even the most delicate fabrics thanks to its expert staff. The service is located on the centre's ground floor.If, on the other hand, you care about time (you can wash and dry your laundry in 1h) and you have a lot of laundry, use the Speed ​​Queen Self-Service Laundry on the ground floor.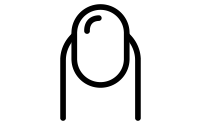 Manicure / Lashes
Beautiful and well-groomed hands and nails make a perfect first impression. Amade Esthetic (ground floor) and Yasumi ( level 3) invites you all to enjoy a moment of relaxation when the parlour's professionals give you the manicure or pedicure of your choice. Enjoy this service in between your shopping. 
In addition, the Amade Esthetic salon offers eyelash extension service.

Tailor
Now you no longer need to hesitate when you've found the right clothes but the size isn't quite perfect. Our centre's tailor, Igiełka Usługi Krawieckie, will adjust the fit or shorten the garment – no job is too small or too complicated. The service is located on Level -1.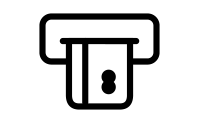 ATM
You can conveniently withdraw your money from the Euronet ATMs located: on the first floor right by the elevator, by the entrance to the underground parking garage, on the ground floor next to the Info Point, and on the second floor vis a vis the New Yorker salon.

Beautician
Skin care requires wise decisions and expert advice offered by the consultants from our centre's Yves Rocher or Stara Mydlarnia cosmetics shops. Another shop, Ziaja dla Ciebie, stocks Polish cosmetics at affordable prices. Professional make-up services are offered by Douglas or Notino where the shop's make-up artists will provide you with expert advice if needed. Douglas also offers a very broad selection of top perfume brands and make-up cosmetics, also available at the Inglot stand.

Florist's
Flowers can reflect any emotion. They often accompany us in the most important moments. That is why it is a good idea to entrust the experts from Alhambra florist's with composing your perfect bunch for the occasion. The shop is located on Level 1.

Drugstore
The pharmacists at Apteka, on the centre's ground floor, are ready to help you and offer advice when you seek the required medication or care products from the pharmacy's extensive offering.

Dentist
Dreaming of a beautiful and healthy-looking smile? The dentist and orthodontist are located on Level 3, at Invicta Medical Centre.

Medical Services
The medical centre offers consultations with many medical professionals including paediatricians, dermatologists, allergists, gynaecologists, neurologists and doctors of other medical specialisms.

Parking
The entrance to Galeria Madison's parking lot is located on Gnilna Street. The lot has 117 parking spaces, 4 disabled parking spaces and 2 motorcycle spaces. Parking ticket machines are located at the entrance to the centre, Level - 1.

Travel agency
Do you also believe that holiday planning should be done by professionals – so that you can relax even before your vacation starts? If so, come and visit our centre's travel agents, Wakacje.pl, and pick the holiday of your choice – whether a summer stay abroad or a holiday adventure in Poland.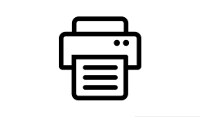 Printer
If you need to prepare a hard copy of an important document, you can use the self-service printer available at the Facility Information Desk on the ground floor. Operation of the printer is extremely easy. You just need to send an email with specific files to the printer, pay for the printout and your documents are immediately ready to be collected.

Key cutting
Mister Minit professionals will make backup copies of housing, car, motorcycle, boat, or other types of keys and accept special orders, as well as repair electronic systems in remote controls for gates or cars, and security devices for bicycles.

Shoe repairs
At the Mister Minit service point, you can perform professional shoe repair services. The shoemaker will make all the corrections, efficiently change heels, replace or strengthen soles, make an extra pair and much more. The point also offers a very valuable shoe renovation service. Give your favorite pair a second life.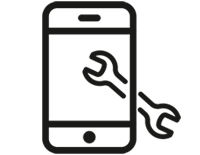 Repair and accessories for telephones
Problem with broken glass, no charger, low battery, faulty microphone or speaker, flooding or data loss? Experts from TeleExpert (level +2) will help you with this.